Recently, Microsoft launched a new beta site at http://docs.com/ . Although I am still trying to figure out what Docs has to do with Facebook, I see that Microsoft is leveraging Office Apps 2010, which is tightly integrated with SharePoint 2010 as well.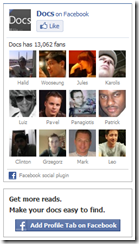 If you have not tried out the new Office 2010, you are missing some really great new software.  One new product that I enjoy using is the Office 2010 Web Apps. With this, you can create and edit Word, Excel, PowerPoint and OneNote documents without having the application installed on your computer. More info is at: http://office.microsoft.com/en-us/web-apps/.  Along with this integration with SharePoint, add Exchange Server 2010 and SharePoint 2010 becomes even more integrated with great features.
Oh, and if you want to download a free trail of Office 2010, browse on over to http://office.microsoft.com/en-us/ and download yourself a copy!