Microsoft released an update this week for the Windows Server Solutions BPA that covers a number of products, including:
Small Business Server 2011 Standard Edition
Small Business Server 2011 Essentials
Windows Storage Server 2008 R2 Essentials
Windows MultiPoint Server 2011
More information about this update is available on the Official SBS Blog page at http://blogs.technet.com/b/sbs/archive/2011/09/29/windows-server-solutions-bpa-updated-september-2011.aspx
So how do you get the update? First, make sure you have the Microsoft Baseline Configuration Analyzer 2.0 installed. To get it, go here. Next, make sure to download and install the Windows Server Solutions Best Practices Analyzer 1.0 here
During the install, you will be prompted with this screen: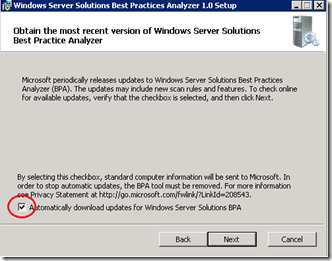 Make sure to check this box during your install, or you will not be prompted to automatically update!
Once you have it installed, launch the BPA either via the SBS Console under security (if you selected to integrate it in the console) or when you launch it under the start menu. You will see in the system tray an icon/pop up stating to update, like this:

Select that, and a window will open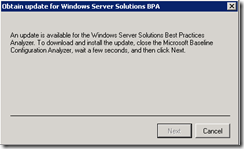 Close the BPA you have open and then wait about 5-10 seconds. The next box will change and allow you to click on it. That's it, you are now updated!
Hey Lyle, I don't see it prompting me. Why?
Ok, so you got it installed, but now you launch it and don't see it prompting you for the update. No problem, here is how to fix this:
Open up the registry and navigate to HKEY_LOCAL_MACHINE\SOFTWARE\Microsoft\WindowsServerSolutions\BPA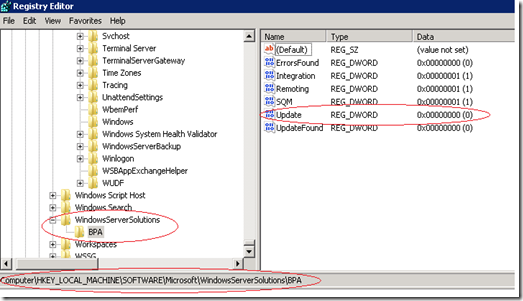 Look for the DWORD item "Update".  It is probably set to a 0. We want to change it to a value of 1. It should now look like this: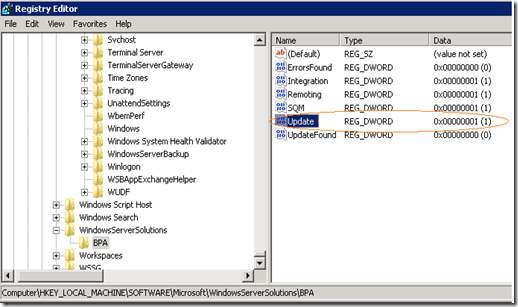 Close out the BPA if you have it open. Now re-launch it and you will see it appear in the SysTray.