After you install Exchange 2007 service pack 3, and or rollup #1 or rollup #2 and you attempt to create a new receive connector, you receive the following error:
Summary: 1 item(s). 0 succeeded, 1 failed.
Elapsed time: 00:00:00
test
Failed
Error:
Active Directory operation failed on SBS01.ks.local. This error is not retriable. Additional information: The parameter is incorrect.
Active directory response: 00000057: LdapErr: DSID-0C090C26, comment: Error in attribute conversion operation, data 0, v1772
The requested attribute does not exist.
Exchange Management Shell command attempted:
new-ReceiveConnector -Name 'test' -Usage 'Custom' -Bindings '0.0.0.0:25' -Fqdn 'test.test.com' -RemoteIPRanges '0.0.0.0-255.255.255.255' -Server 'SBS01'
Elapsed Time: 00:00:00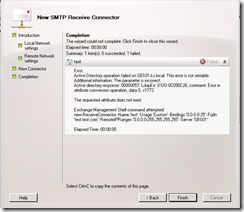 This is caused by service pack #3 not extending the schema properly, or not at all. To resolve this issue, download service pack 3 again at http://www.microsoft.com/downloads/en/details.aspx?FamilyID=1687160b-634a-43cb-a65a-f355cff0afa6&displaylang=en and then extract it.
Open a command prompt and go to the extracted folder. Now execute the following command:
Setup.com /PrepareSchema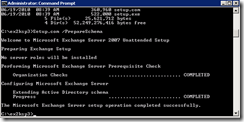 Now attempt to create your receive connector, and it will work fine. Please note, you do NOT have to remove rollup #1 or rollup #2 to fix this issue. I found one post that mentioned waiting for rollup #2 to come out to fix the issue http://msmvps.com/blogs/bradley/archive/2010/10/12/can-t-do-a-new-receive-connector-after-exchange-2007-sp3-rollup-1.aspx , but the issue is not fixed in the rollup as it is a schema extension that was introduced in service pack #3. Upon further reading and investigation, on the Microsoft TechNet site, at http://technet.microsoft.com/en-us/library/ff607233(EXCHG.80).aspx it clearly states
"You must prepare Active Directory and each domain before you perform the first installation of Exchange 2007 SP3 in an organization. This process includes updating the Active Directory schema for Exchange 2007 SP3"

Guess no one read this part, including me!