Today I had to take a customers server that was running SBS 2008 on a physical box and convert it to a virtual machine as we were preparing to run a terminal server along side the SBS server on one physical box. This particular customer uses Symantec's Backup Exec System Recovery 2010, soon to be renamed Symantec System Recovery 2011. I did my usual full backup and verification, then reformatted the server with Windows 2008 R2. I installed the Hyper Visor role, and installed BESR. I then selected the backup of the SBS server and selected to convert it to a Virtual Machine. During the selection, I selected to run Mini Setup  also known as Sysprep. The conversion ran as expected. I then created my virtual machine, and selected the converted VHD file as my hard disk. Upon booting it up, it sat for some time on the following screen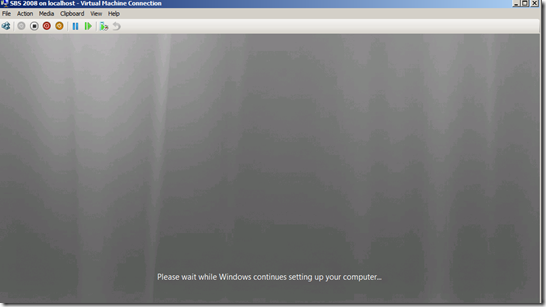 with the message Please wait while Windows continues to prepare your computer . After waiting 30 minutes, I decided it must have locked up. The mouse was still responding, and the keyboard as well. I decided to open a command prompt by pressing Shift F10 and then opened the task manager. Nothing seemed to be going on except for the setup application. I looked at the device monitor and didn't notice anything unusual. I decided to turn the VM off and then back on. Well that was a bad choice, as I then received the error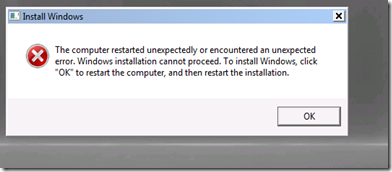 The computer restarted unexpectedly or encountered an unexpected error. Windows installation cannot proceed. To install Windows, click "OK" to restart the computer, and then restart the installation. Well when I clicked ok, it rebooted and the same error came back up. So I decided to repeat the entire process again. After waiting another 3 hours for the conversion to finish, I booted up the VM again, and then I waited over an hour. This time I got the following error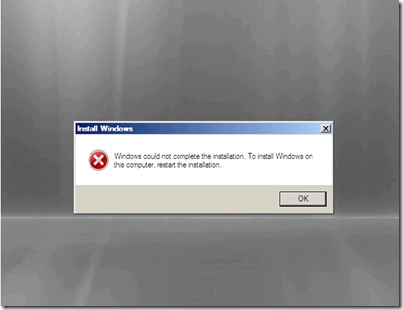 Windows could not complete the installation. To install Windows on this computer, restart the installation. Now the frustration kicked in. After doing some searching, I came across the following Symantec article at http://www.symantec.com/business/support/index?page=content&id=TECH66709&key=53845&actp=LIST . According to this article, sysprep needs to use the Administrator account. Well by default in SBS 2008 the domain administrator account is disabled. According to the article, the only resolution is to enable the account and take a new backup or call Microsoft. Well, I had already reformatted the server, and I didn't feel like doing a restore, and then enabling it, and then a backup and conversion all over again, that is too much time and work. I decided that the best way to fix this is to enable the built in administrator account. I went ahead and downloaded the NT offline password editor and registry editor at http://www.pogostick.net/~pnh/ntpasswd/ . I then booted the VM on this ISO. All was good till it said the NTFS partition could not be read. So I struck out on that idea. I then attempted to follow this article on http://4sysops.com/archives/offline-enable-the-built-in-administrator-account-in-windows-7-and-vista/ which tells you how to edit the registry to enable the built in administrator account offline.  I tried this method but it appeared based on the registry that the account was enabled. So assume sysprep is not working because of the domain admin account, which is not part of the SAM but Active Directory, or NTDS.  I did some further research and found that sysprep does not use the Active Directory, so that article lead me down the wrong path.
The next step is to disable sysprep. I followed http://support.microsoft.com/kb/321070 but those instructions were for Windows XP. After following it and attempting to boot the VHD, I got an error that winload.exe could not be found.
I then opted to reconvert the backup but this time not to run mini setup.  Another 3 hours into the project it was starting to look pretty grim.
This time the VM booted up without running sysprep,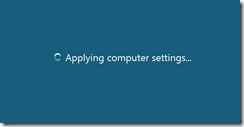 I was able to successfully login to the server and insert the Hyper-V integration disk. Not sure why mini setup didn't work, but if you run into this issue, try and not run mini setup.
For more troubleshooting, take a look at http://www.symantec.com/business/support/index?page=content&id=TECH53848